Indoor Air Quality
Thermostats-
Advancements have been made to have thermostats control humidity and temperature better than ever. We offer Programmable and non-Programmable digital thermostats made by Honeywell.
Ultra-violet Light-
Insert some sunshine into your duct work to purify your air. " Second Wind Air Purifier " Since 1990 they have been the recognized leader in ultraviolet air purification equipment for residential and commercial applications.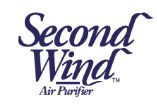 Electronic Air Cleaners-
The most effective whole-house air filtration system available- TRANE CleanEffects
Superior technology turns ordinary air into Trane Air. It filters and cleans up to 99.98% of airborne allergens that pass through the filter which is attached directly to your duct system. So, All of the air that your system circulates is treated. Up to 100 times more effective than a standard 1" filter. Up to 100 times more effective than a standard 1" filter and 8 times better than most Hepa Filtration systems on the market. Performance has been verified by leading experts from outside agencies that have no affiliation with Trane.
Traps particles down to 0.3 microns in size.
Traps particles down to 0.1 microns size ( 2 million particles of this size fit on this period .)